On January 10-15, the Arts Printing House will host an international children's and youth festival – KITOKS'22. This year, the festival greets audiences with the slogan "Opening Worlds". This is the first and largest festival in Lithuania presenting unconventional performing arts to 0-18 year olds, which this year the festival program will feature performances from Switzerland, Sweden, Belgium, France and Lithuania!
FESTIVAL PROGRAMME:
KITOKS | Presentation of the creative workshop for the musical movement performance JAUPO10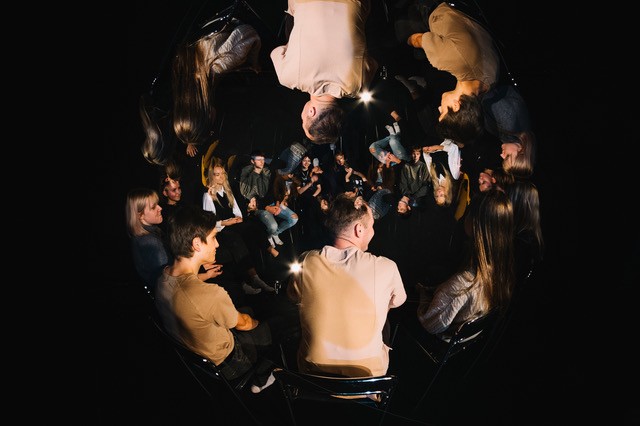 During the summer residency at the Arts Printing House, four creators – Andra Kavaliauskaitė, Raimondas Klezys, Matas Saladžius and Ieva Jackevičiūtė, together with their students, explored the taboo topics that appear in their environment and the particularities of such audience's need for art choices. Here the idea for a performance that would talk about the restrictions and courage to make your own choices was born. Movement theatre, storytelling and singing were chosen as an expression to embody this topic. The creators refuse to distance themselves and build the fourth wall, they search for opportunities to make live contact and interactive connections with the young audience. Participants are invited to sit in one circle and thus become not only passive observers but also active action creators.
January 10, 12:00
Location: Arts Printing House, Pocket Hall (Šiltadaržis st. 6)
Duration: 30 min +15 min discussion
Recommended age: 12-16 years
Free, registration required: https://bit.ly/JAUPO10_registracija
KITOKS | HOCUS POCUS | Philippe Saire Company (CH)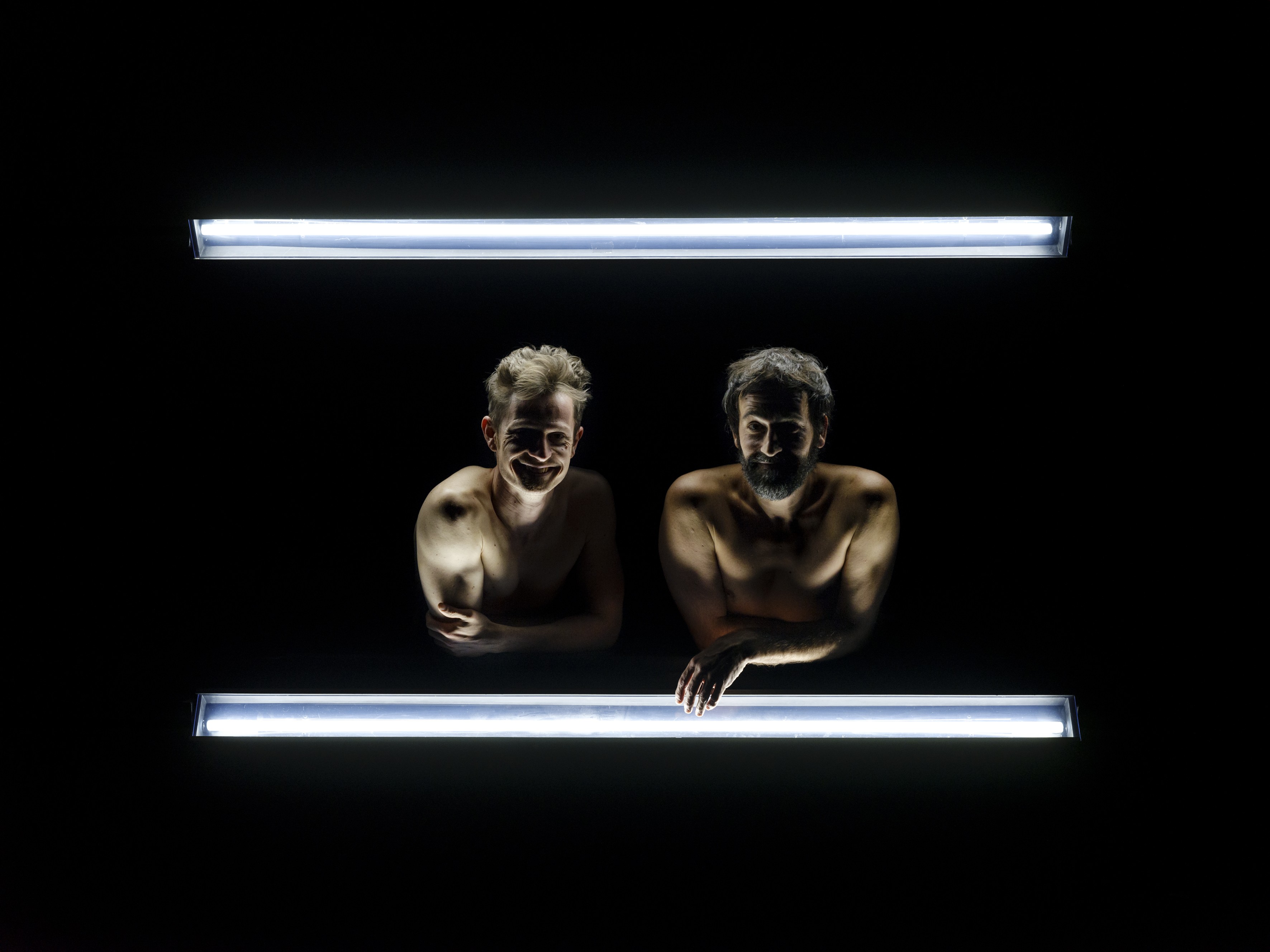 ATTENTION! This performance was canceled due to the positive covid-19 response of one of the performers. We offer you to exchange your tickets for other festival performances (contact komunikacija@menuspaustuve.lt).
January 10, 10 a.m. and 6 p.m. have been canceled. Tickets can be returned at the box office where they were purchased until 24 January 2022. Tickets purchased online can be returned to your account www.tiketa.lt if you have any doubts you can write info@tiketa.lt.
January 10, 10:00
January 10, 18:00
Location: Arts Printing House, Black Hall (Šiltadaržis st. 6)
Duration: 45 min
Recommended age: 7-11 years
KITOKS | CREATION OF THE WORLD | Dansema (LT)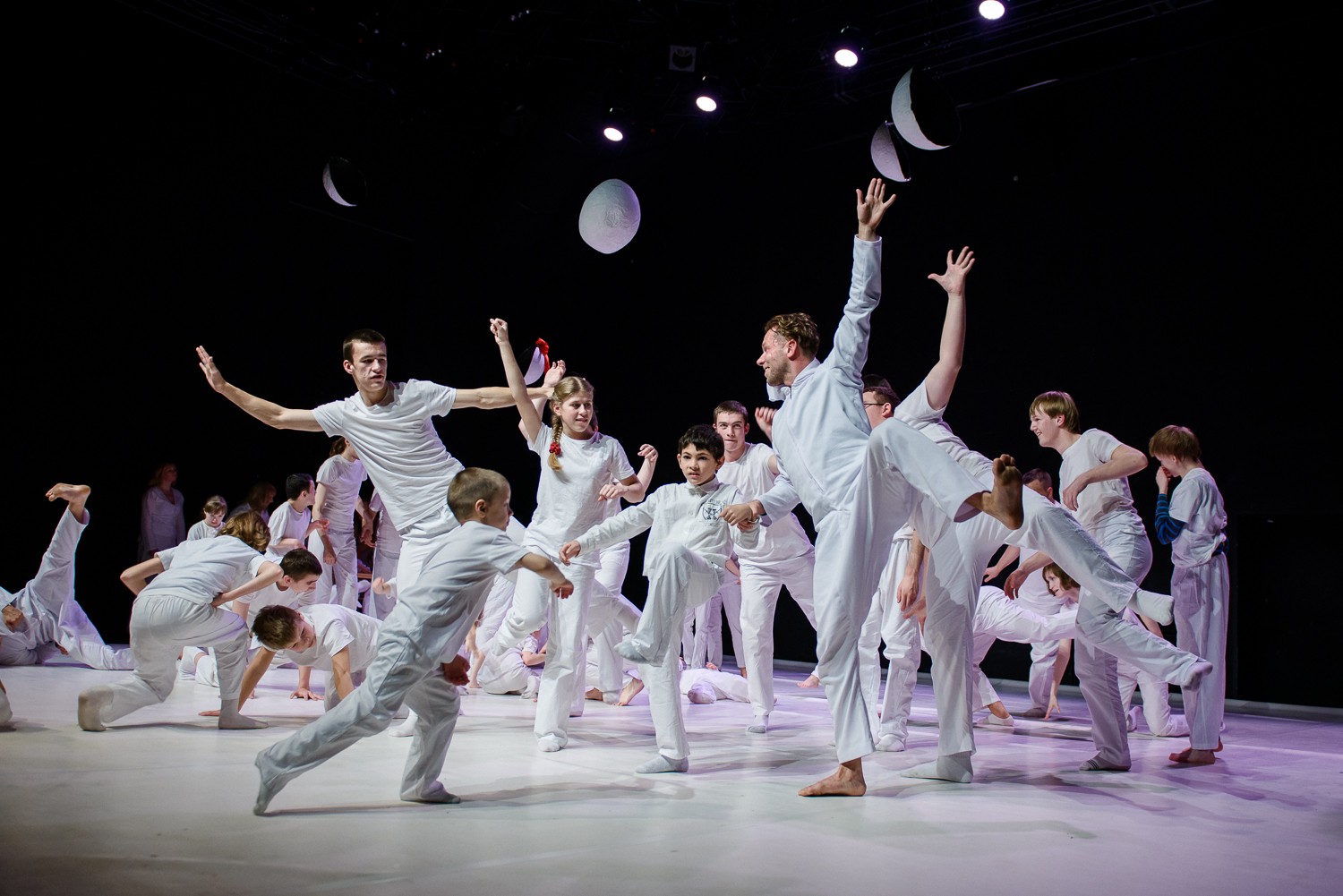 "Creation of the World" is a creative-educational project based on the methodology developed by Birutė Banevičiūtė, the artistic director and choreographer of Dance Theatre Dansema, which focuses on the collective creative activities of Dansema dancers and children. During the project, professional dancers, together with children with no previous dancing experience, improvise and convey the unique story of world creation through movement in creative dance laboratories: from the big bang and stars in space, Sun and Earth, night and day, to the clouds in the sky and rain, fish in the sea and birds, animals and humans. It is a great opportunity for children to collaborate with professional dancers, create, dance on stage, and show the results of the creative process in public.
January 11, 12:00
Location: Arts Printing House, Black Hall (Šiltadaržis st. 6)
Duration: 30 min
Children with both autism spectrum disorder and Down syndrome are invited to participate in the creative workshop.
Audience is invited to watch the presentation of the creative workshop! There is no age limit.
The presentation is free, registration is required. You can register here: https://bit.ly/Registracija_Dansema
KITOKS | DAZZLEMAZE | Dalija Acin Thelander (SE)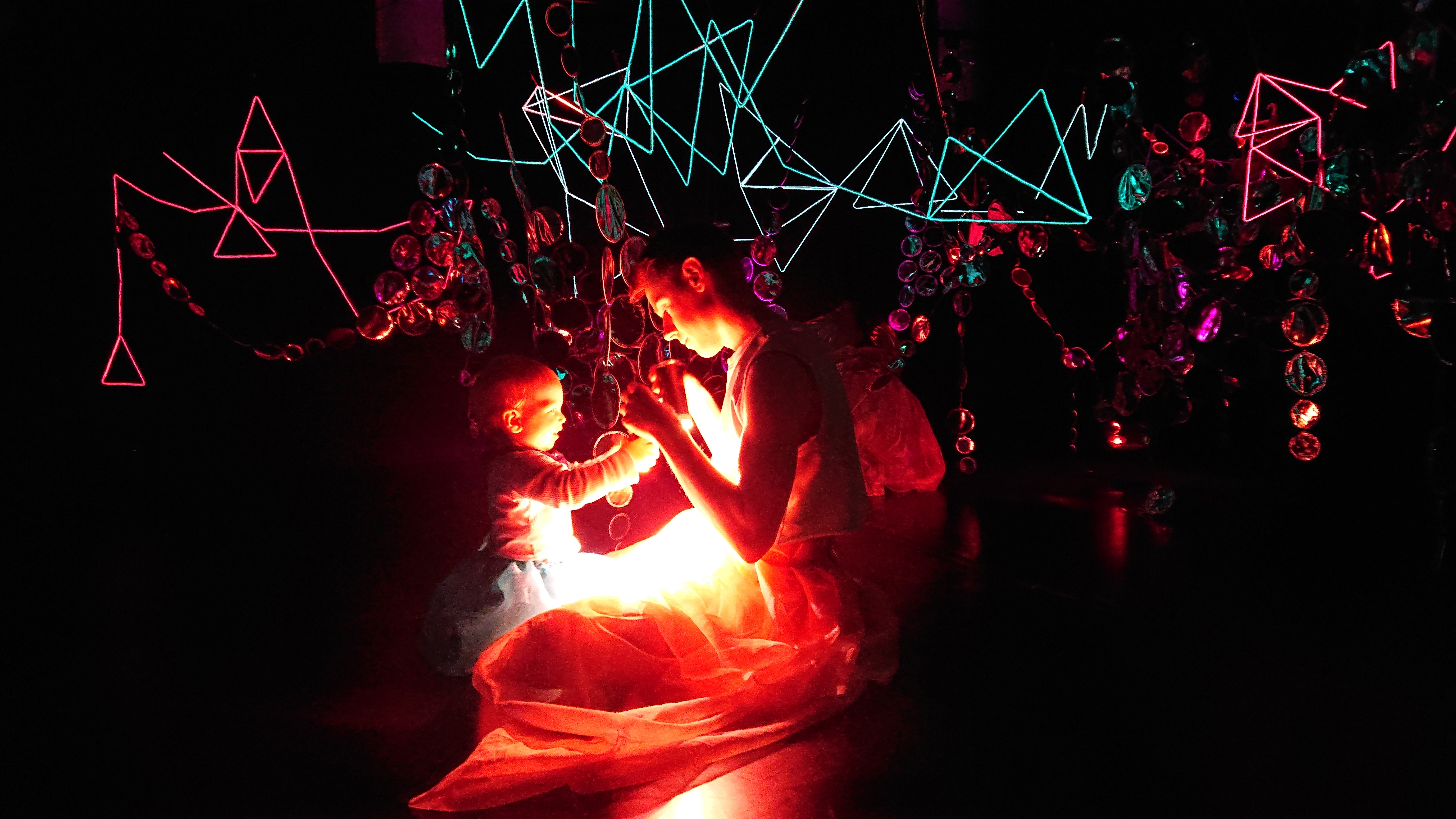 "dAzzleMAZE" is a choreographed installation designed for the youngest audience, which explores the possibilities of an event world rather than an object world – something dynamic and relatively unpredictable. It proposes diverse sensory experiences and encourages curiosity, exploration as well as relaxation and contemplation. It provides various extents of experience for all types of perception with no judgment on eligible and ineligible behaviours. The audience is invited to enjoy the performance freely and on their own terms. Within several hours of duration, they can come when they are ready, exit, re-enter during the show and leave when it suits them the most. The audience is invited to choose and wear the costumes which are placed in the welcoming area, and which are aesthetically corresponding to costumes that performers wear. In this way, the sensation of togetherness is enhanced.
January 12, 12:00-15:00
January 13, 10:00-13:00
Location: Arts Printing House, Black Hall (Šiltadaržis st. 6)
Duration: 3 hours (possibility to stay in the performance/installation as long as desired)
Also suitable for children with Down syndrome
Age:
3-18 months – all neurotypical children
0-24 months – children with Down syndrome
Tickets: https://bit.ly/Kitoks_Dazzlemaze
KITOKS | me two / WE, THE CLIQUE | Low Air (LT)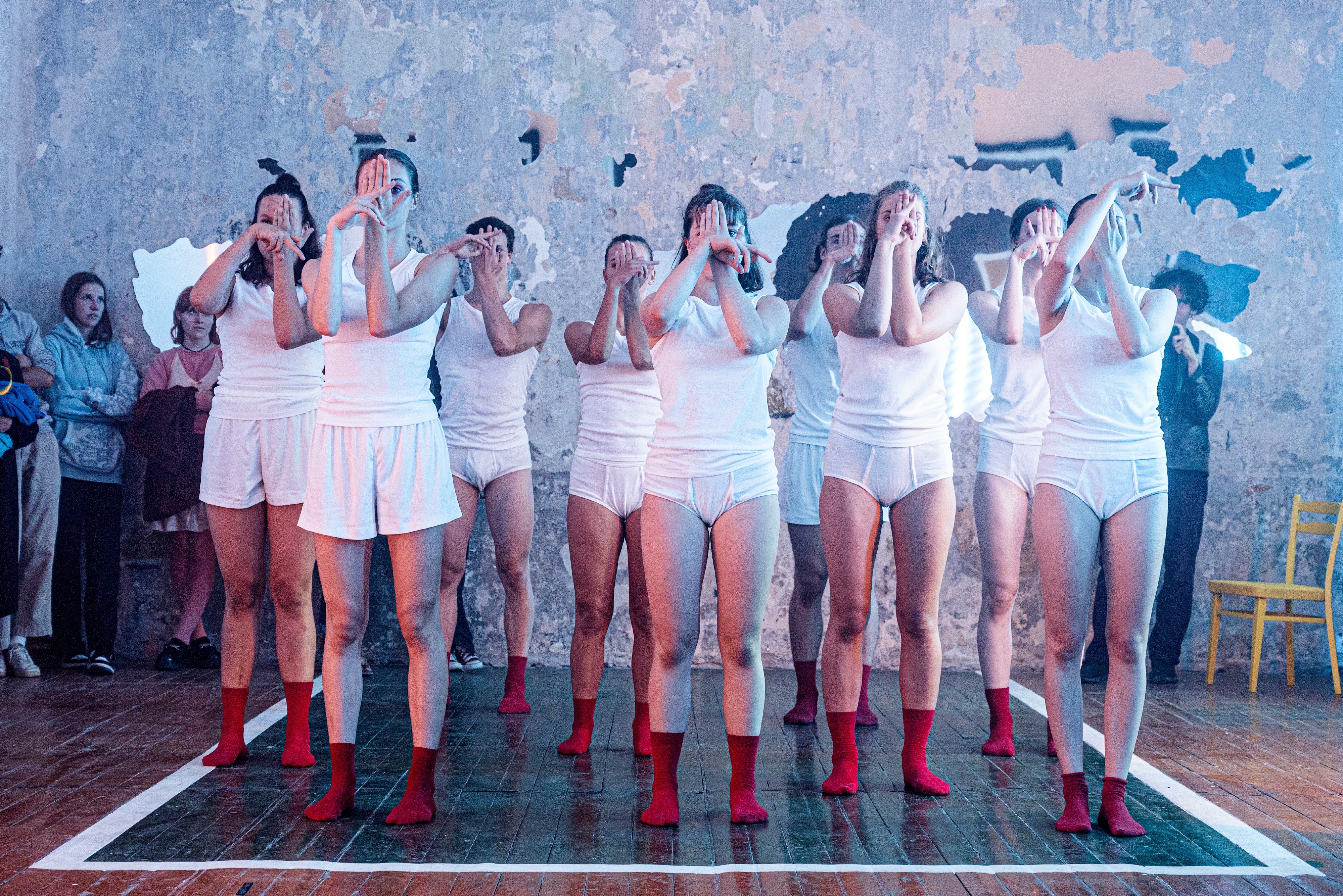 Low Air Dance Theatre project "Me Two" was born when Low Air students expressed a wish to create a performance and talk about the world they live in – not in the language of adults, but in their own instead. The process between teenagers and artists revealed intimate and often "awkward" stories, different approaches to them, questions as: where are the boundaries between the worlds of two generations, why sensitive stories often remain silent or are unheard. And why, when we start telling a story and hear a silent "it happened to me too", we rarely want to support each other.
January 12, 10:00
January 12, 18:00
Location: Sodas 2123 (Vitebskas st. 23)
Duration: 1 hour
Recommended age: 14-18 years
Tickets: https://bit.ly/Kitoks_Savoj_Krūvoj
KITOKS | KISSMAS (LT)
A performance about adolescence, as one of the most important changes in human life. When each day can become a challenge to define yourself. Or survive. Let's meet in the shortest camp of your life. We are playing, so we will become Rokas (16), Monika (15), Kotryna (15) and Laura (14). From forest to space. What does it mean to lose a friend when there is nothing more important than friendship? What does it mean to watch everything around you change, but you cannot do anything about it? Uncensored words are used in the performance.
January 13, 10:00
January 13, 18:00
Location: Arts Printing House, Black Hall (Šiltadaržis st. 6)
Duration: 1 hour 45 min
Recommended age: 14-18 years
Tickets: https://bit.ly/Kitoks_Kissmas
KITOKS | PROMISE ME | Kabinet K (BE)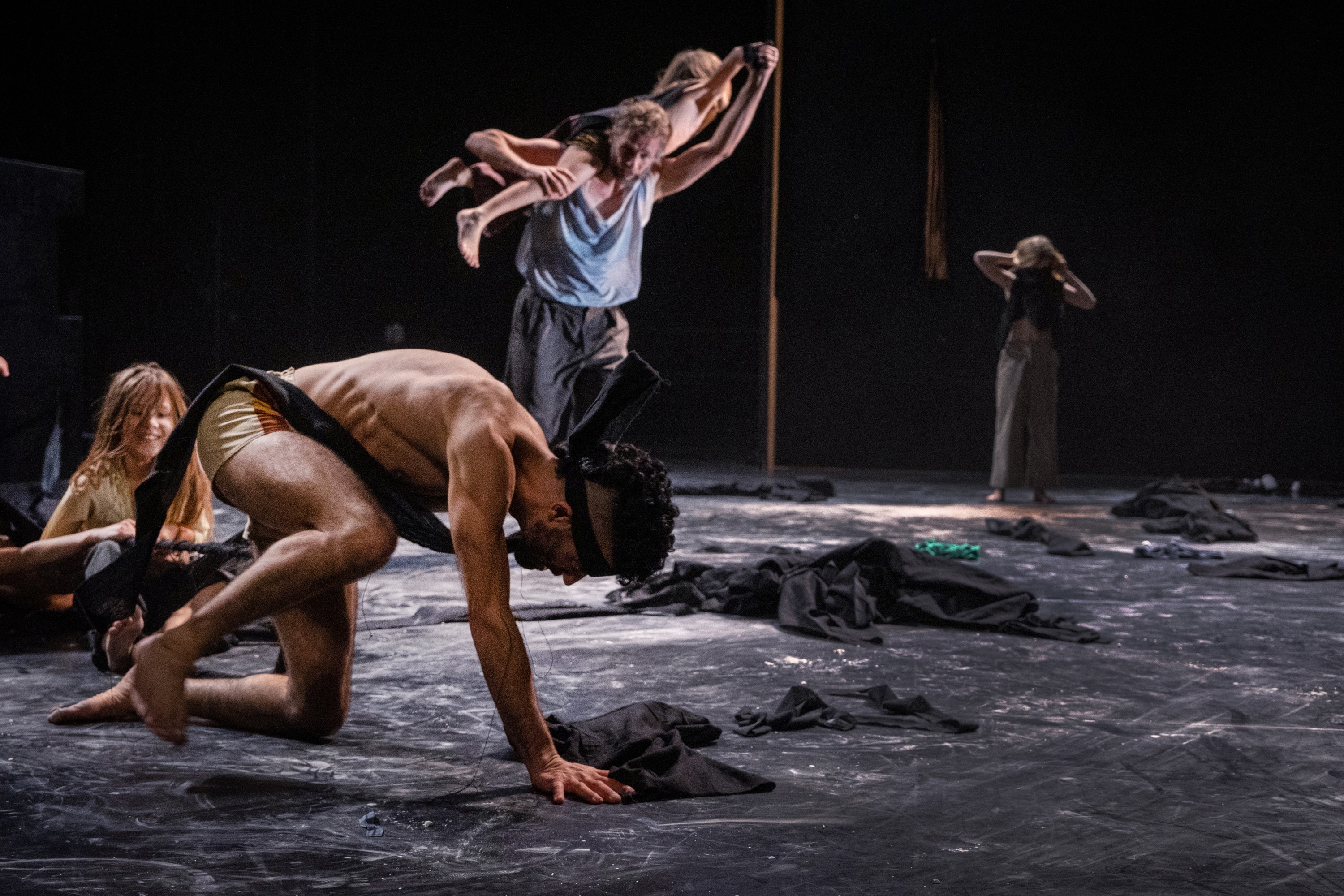 "Promise me" is a show "dansant". Kabinet K chose to create this show with its usual suspects: children who have made Kabinet K's physical language their own. A relentlessly physical and fiery show. In times when most people want to insure themselves, preferably against everything, this show will be a celebration of the untamed, the reckless, the brave. Kabinet K is not looking for explanations, but examines the attitude and the dynamics associated with "recklessness". Like the urge to discover things, to flirt with danger, to get over cold feet. "Promise me" questions our images of fear; gauges what we have to lose anyhow. However battered we come out of the battle, it's worthwhile to do something you've never done before and never dared to do. It's courage, curiosity, impetuousness. It's like the motto of Pippi Longstocking "I've never done it before, so I think I can do it". Recklessness, as a sign of vitality, like living with the intensity of a whirlwind. Finishing off the indifference. Overhauling certainties. Confronting yourself manyfold. Embracing the explosive forces inherent in life. But there's more. Notions of anger, waywardness and resistance slumber in this work. Like a burst of rage after a long period of powerless passivity. Like the urge for deeds, no matter what the consequences are. Like a revolt against that what stops you from living. Like throwing a stone at death. Like sticking your tongue out at the monster. Like showing the finger to the devil. Promise me is about letting go of control and taking risks.
January 14, 10:00
January 14, 18:00
Location: Arts Printing House, Black Hall (Šiltadaržis st. 6)
Duration: 1 hour
Recommended age: 12-18 years
Tickets: https://bit.ly/Kitoks_Promise_Me
KITOKS | Désordre & Dérangement | Compagnie d'opéra théâtre (FR)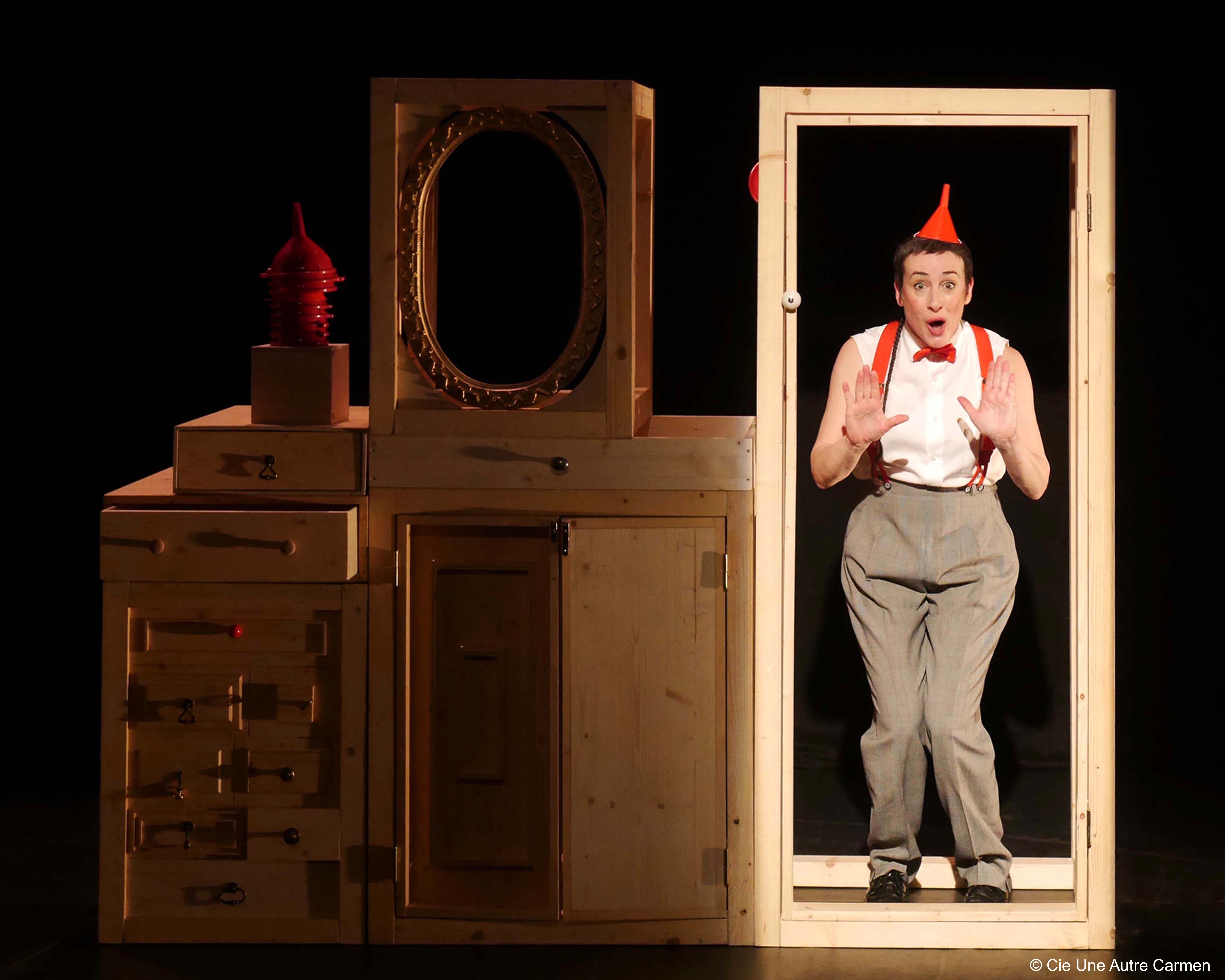 Arias invite themselves in between the drawers. Funnels are dialling their numbers. Diiiiiiing! How can you tidy up without being disturbed?! A pianist-tinkerer of sounds and a slightly cracked opera singer embark us in a classical-electro whirlwind full of madness, following in the footsteps of the great Mozart. A little magic flute, a wild Turkish march and everything should be fine (and order should be back)... or not! Diiiiiiiing!
January 15, 10:00
January 15, 12:00
January 15, 15:00
Location: Arts Printing House, Black Hall (Šiltadaržis st. 6)
Duration: 35 min
Recommended age: 3-8 years
Tickets: https://bit.ly/Kitoks_Desordre
KITOKS | LITTLE CREATURES | Theatre of Senses (LT)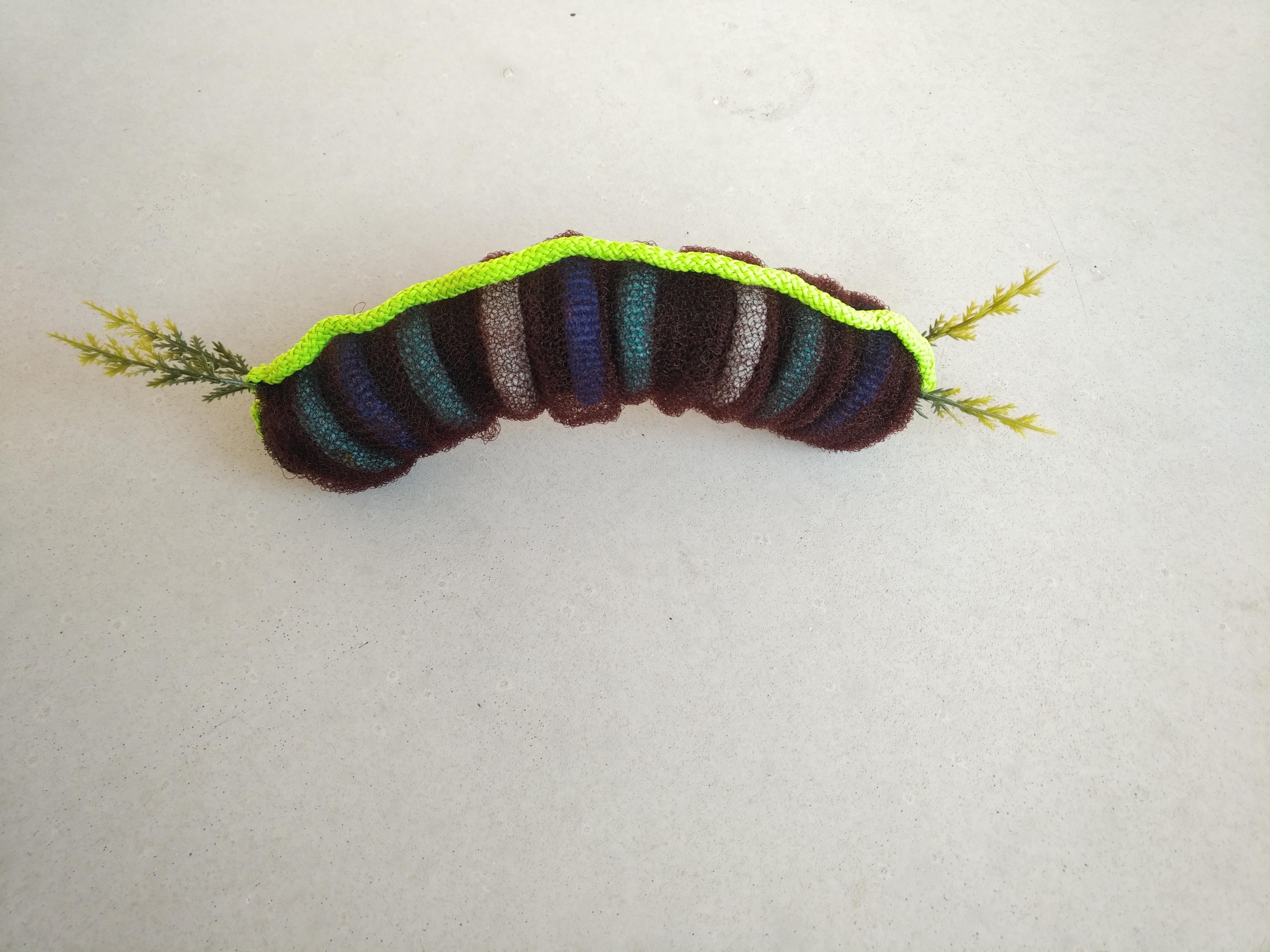 A sensorial performance "Little Creatures" by the Theatre of Senses is created for children with special sensorial needs and their families, as well as for families with 4-9 years old neurotypical children. A story develops around the life of a meadow and its inhabitants – caterpillars, bees and flowers. The story is told through various sensorial means that were created when experimenting with children of different sensitivities, searching for what brings pleasure to them, what is interesting, soothing and joyful. Each family receives a set of tools. The box hides a private cocoon, a funny caterpillar, some clanging butterfly eggs, wind-catching wings and other things that gradually intertwine into the story. Children can use the tools at the time they appear in the story, or just play with what they like the best. The story is followed by its own music, created specifically for this performance. The calm tunes peacefully float one's imagination to colourful landscapes. Creators have based this performance on a DIR Floortime method of working with children with special needs, as well as on their experimental experience.
January 15, 14:00
January 15, 18:00
Location: Arts Printing House, Pocket Hall (Šiltadaržis st. 6)
Duration: 50 min
Recommended age: 4-9 years
For children with autism spectrum disorder
Tickets: https://bit.ly/Kitoks_Padarėliai
Festival tickets are required for children and their accompanying persons.
The programme of the festival is supported by: Lithuanian Council for Culture, Vilnius City Municipality, French Institute in Lithuania.