HELIUM PROGRAM:
7 MINUTĖS | K. Bujanauskas, L. Vervečka, I. Juškevičiūtė, L. Dirsė, T. Stonys, Ž. Dubnikovaitė (LT)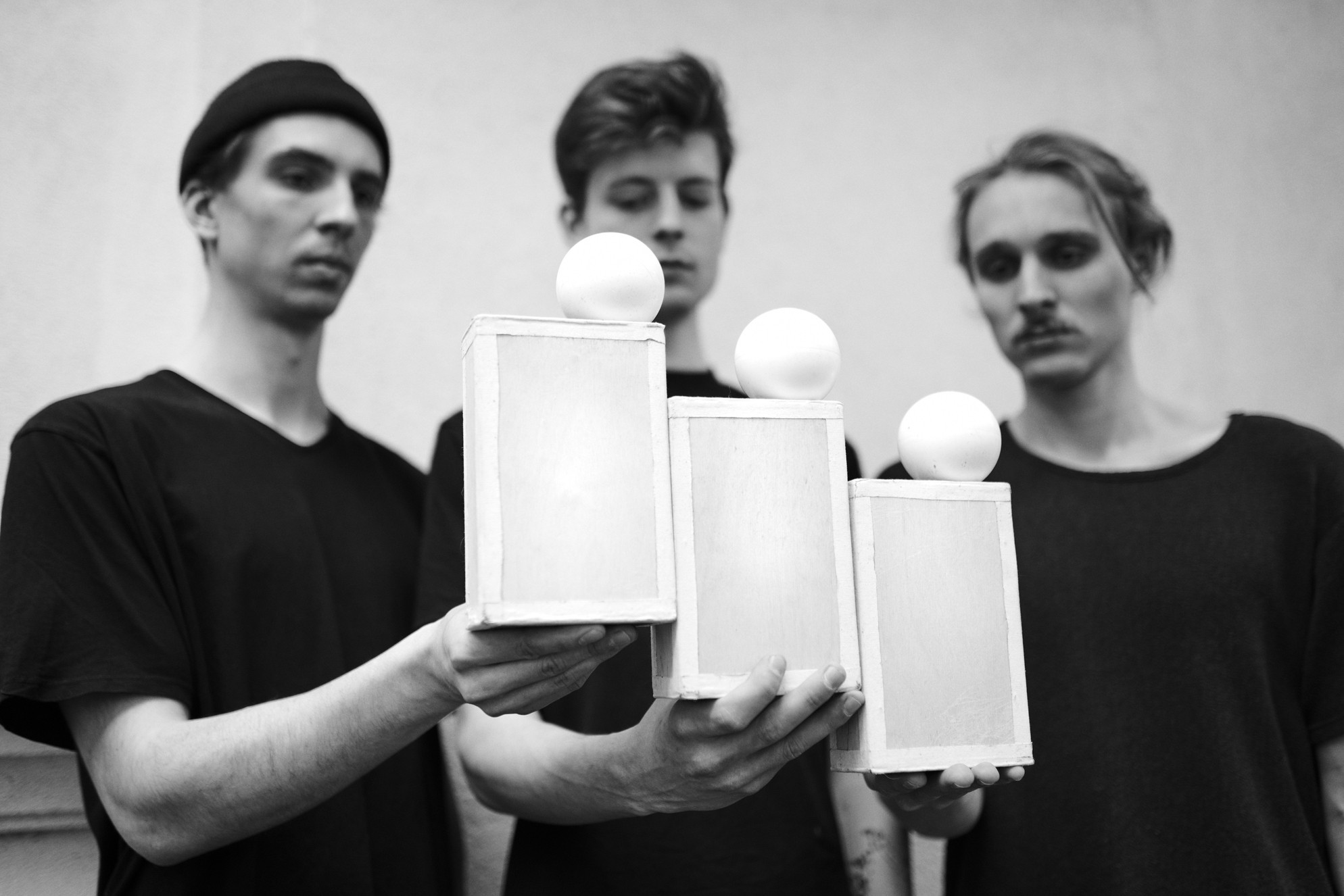 Presentation of the work by the winners of the Arts Printing House program "Open Space". Concentration distracts and the random circumstances of life suddenly put everything into place. However, taking a step beyond the threshold to uncertainty turns out to be safer than not stepping over it and remaining calm and undisturbed. The road of one person through himself becomes a part of a long process – what is this process and what is the purpose of this journey, even the artist himself is uncertain of it.
Three different personalities. Three different fields of art. Three different moods. And only 7 minutes.
September 6, 20:00
Location: Courtyard of the Arts Printing House (Šiltadaržis st. 6)
Duration: 50 min
Free entrance!
UP TO THIS POINT | Taigi cirkas (LT/LV)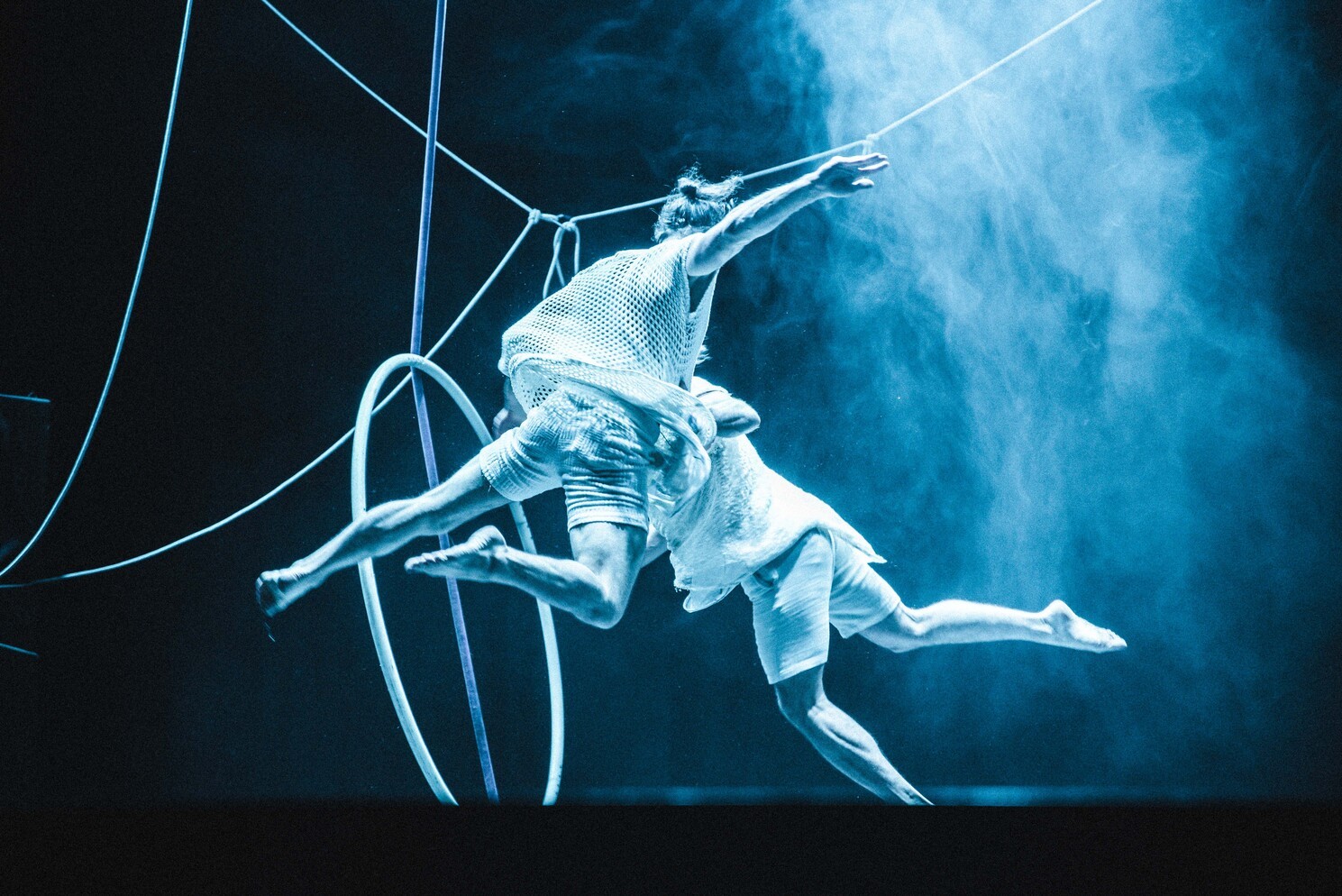 "Up to this Point" is researching connection points between the practices of three circus artists: each of them is finding their artistic way in harsh conditions. How do their bodies change and how does it affect their mental state? How do their thoughts translate to their bodies?
Contemporary circus company "Taigi Cirkas" was formed in 2016 in Vilnius, Lithuania. Its name can be loosely translated from Lithuanian as "But it's circus" – meaning that it is something that doesn't have to be explained. The main purpose of the group is to tell honest stories emerging from their individual and collective experiences using circus disciplines as a medium to share and connect.
I was hanging there
tangled, framed and limited
I was rolled on and over, spinning in and out,
Bruised and healed, crushed and resurrected
With breath taken
and heart lost –
ALIVE.
September 7, 19:00
Location: Arts Printing House (Šiltadaržis st. 6)
Duration: 40 min
Tickets: https://bit.ly/HELIUM_2022_Bilietai
MAN STRIKES BACK |  Post uit Hessdalen (BE)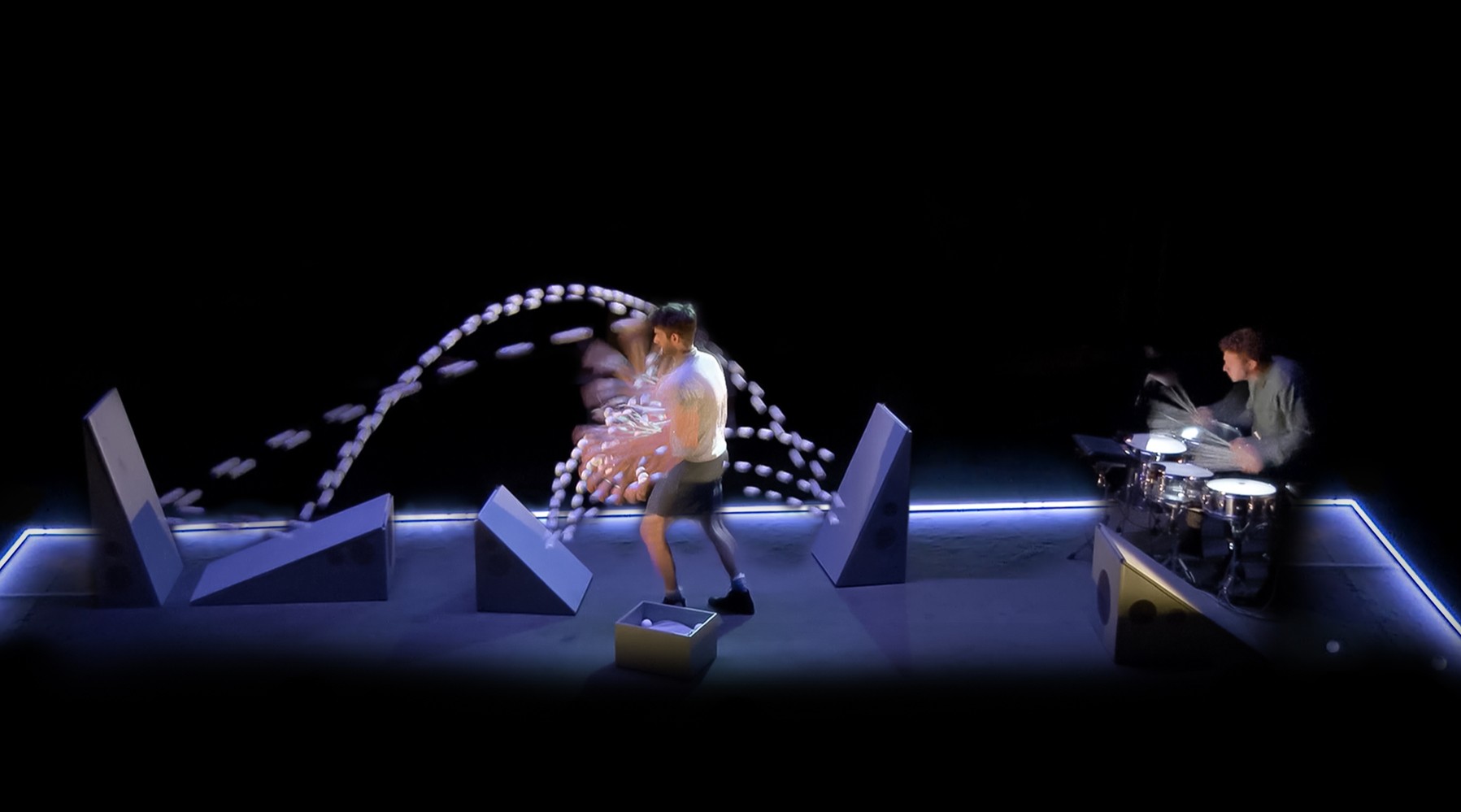 MAN STRIKES BACK by the Belgian collective Post uit Hessdalen is a musical circus performance by people and robots, for people and robots of 6 years and older.
Five wooden triangles, a juggler and a drummer. Stijn Grupping juggles by bouncing rubber balls from one object to another while musician Frederik Meulyzer picks up the rhythm with his drums. Together they compose musical harmonies and an intriguing web of lines created by the bouncing balls in motion. Everything depends on both the precision and strength of the juggler as well as the speed and reaction of the drummer. Until the wooden triangles begin to mix and take up new positions. The concert develops into a fascinating choreography involving objects, a juggler and a musician. Triangles come to life, revealing their own personalities. But the livelier the triangles become, the more challenging it is for the juggler to keep the balls up in the air.
September 8, 19:00 / September 9, 19:00
Location: Arts Printing House (Šiltadaržis st. 6)
Duration: 45 min 
Age: 6+
Tickets: https://bit.ly/HELIUM_2022_Bilietai
VILNIUS 700: BITBYBIT | MOVEDBYMATTER & Collectif Malunés (BE)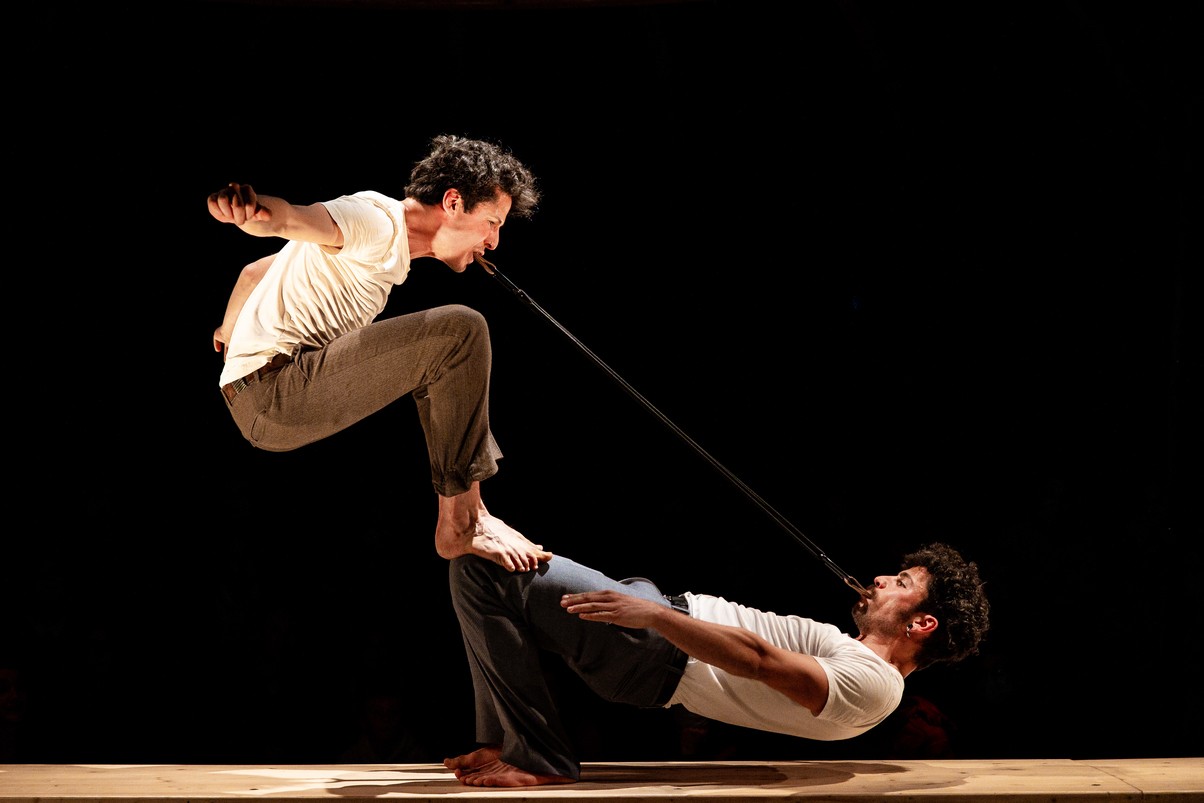 BITBYBIT combines a classic circus technique (the Iron Jaw) with an evocative tale about two inseparable brothers – Simon and Vincent Bruyninckx of Collectif Malunés. They engage in a dangerous game of attraction and repulsion at the limit of their physical ability and only centimetres away from the audience. Their duel, as sensitive as it is spectacular, resonates with a captivating soundtrack by Dijf Sanders. With devilish pleasure the acclaimed circus ensemble Collectif Malunés knocks down the walls between various disciplines.
In this contemporary circus performance, the Bruyninckx brothers tell a special story about the fraternal bond. The brothers embody a story of brotherhood, risk-taking, love, struggle, downfall and solidarity without any words, through constant physical effort alone. It is the culmination of a lifetime of sharing love and suffering.
September 9, 18:00 / September 10, 18:00 / September 11, 16:00

Location: The Bernardine Garden
Duration: 75 min
Age: 6+
Tickets: https://bit.ly/HELIUM_2022_Bilietai
VILNIUS 700: CARRYING MY FATHER | There There Company (BE)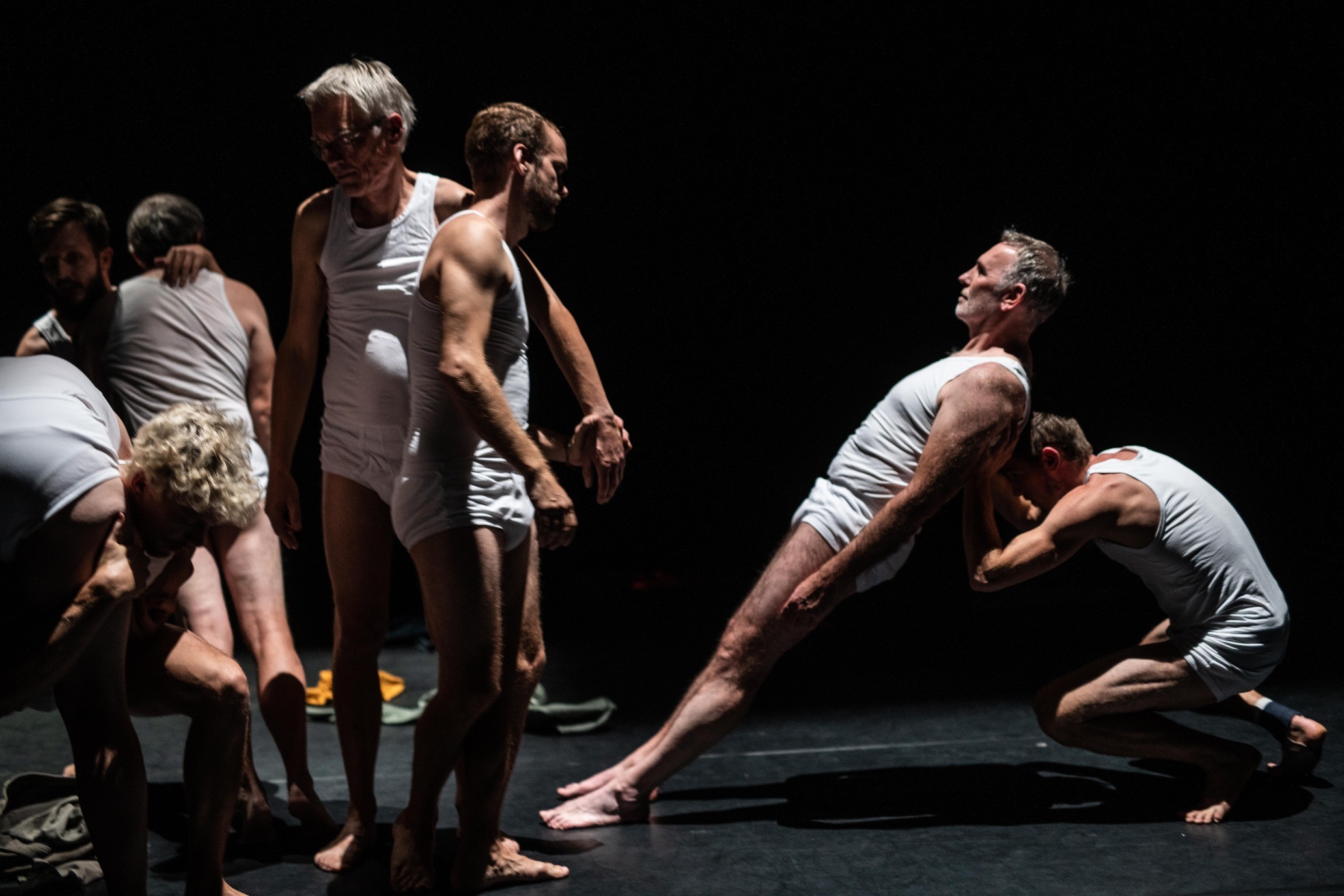 CARRYING MY FATHER is a physical encounter between generations. Four circus artists share the stage with their fathers in an acrobatic performance about carrying and being carried. About holding on and letting go. About strength and rivalry. These eight bodies on stage are not equally strong, but they are equally powerful in their individuality and interaction. Together they discover the challenges of growing older. Together they create a bond between a father and a son.
When generations meet, wonderful things are born: in this performance four contemporary circus artists share the stage with their fathers. Who carries and who is being carried? Who is holding on and who is letting go? It is a fragile performance about strength and playful competition. Eight men in the performance are of different strengths but powerful in their own uniqueness – when they meet, they test each other and finally carry each other.
September 9, 20:00 / September 10, 16:00
Location: Kablys+Kultūra (Aguonos st. 21)
Duration: 55 min
Age: 10+
Tickets: https://bit.ly/HELIUM_2022_Bilietai
HELIUM PARTY + PIRMOJI BANGA film screening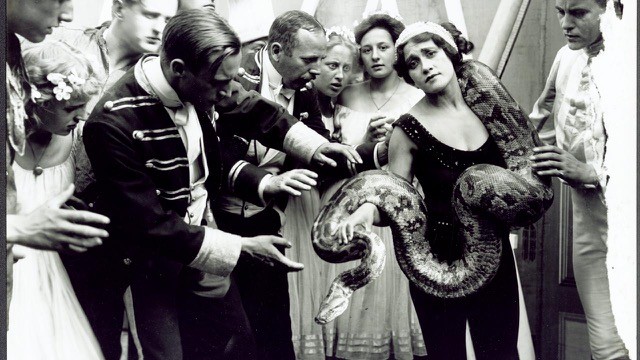 This year festival HELIUM invites you to meet the participants and visitors of the festival with music and discussions as well as, in collaboration with the early film festival "Pirmoji Banga", to participate in a special film screening with a selection of circus-themed short films from various countries and different periods (from 1898 to 1926). The films will present the circus appearance in cinema from various angles – from French clown-performed comedies to chaotic American cartoons. It is worth coming here not only for a quick chat but also to take a look at the unknown history of cinema!
Date: September 9, 20:30
Location: Shinzo & Pocket Hall (Šiltadaržis st. 6)
Free entrance!
BREAST IN PEACE | Mighty Performing Arts Collective (SE)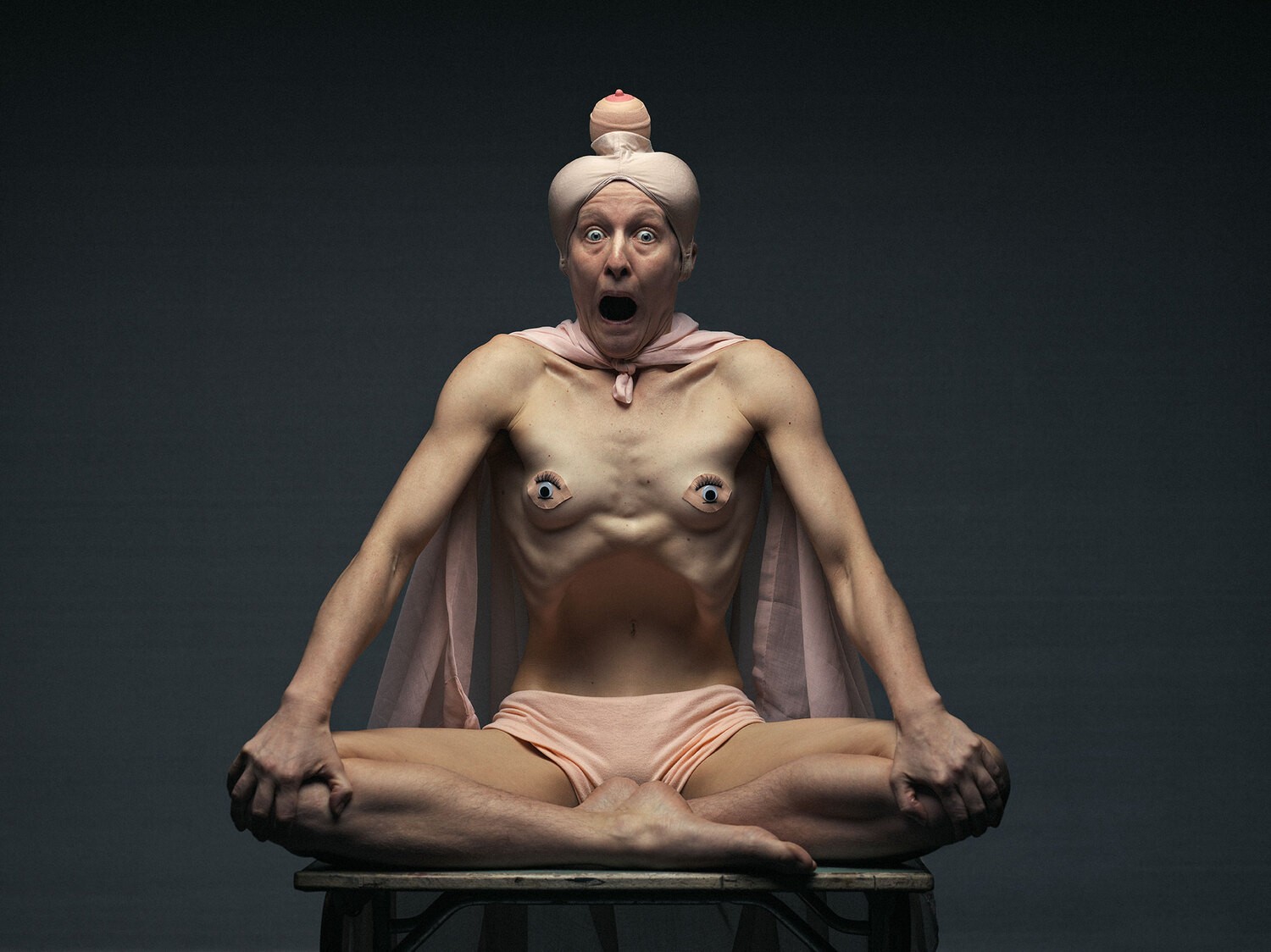 Mighty Performing Arts Collective works in collective processes based on feminist approach. Swedish contemporary circus performers use clowning as the main method of work and stage art, which permeates into other creative forms – circus, theatre, dance and performative art. Their main goal is to strengthen and broaden perception of clowning and women in the performing arts.
Who can show their nipples on the beach? In social media? Elevated on stage in the spotlight? Breasts are too big, too small, too saggy, too sexy, too heavy, too flat, too muscular. Are you breastfeeding here?! Breasts are hidden, missing and mourned. Breasts are a goldmine for four clowns with a punk circus attitude!
The company plays with perceptions of breasts to surprise, remove shame, arouse laughter and broaden the view on breasts both in the public and private, intimate spaces. Using clowning, dance and circus the ladies on stage build a space of humour and vulnerability, rapture and resistance, tricks and reflection. Partners:  Konstnärsnämnden The Swedish Arts Grants Committee. 
September 10, 20:00 / September 11, 13:00
Location: Arts Printing House (Šiltadaržis st. 6)
Duration: 75 min 
Age: 18+
Tickets: https://bit.ly/HELIUM_2022_Bilietai
Educational programs JAUNASIS KRITIKAS (THE YOUNG CRITIC) and SCENOS konTEKSTAI (STAGE conTEXTS) as well as other creative workshops are held during the entire HELIUM festival! More information about them and registration can be found at www.menuspaustuve.lt
Partners of the festival: Lithuanian Council for Culture, Vilnius City Municipality.