For the sixth summer in a row, Arts Printing House invites to meet different forms of street art at the international street arts festival SPOT. Until this year, the festival traditionally took place in the second week of July, but this year the public is invited to enjoy the festival earlier – from June 29 to July 2!
PROGRAM:
TRUTH OR DARE| E. Senkuvienė, M. Eidrigevičius, G. Snitkutė (LT)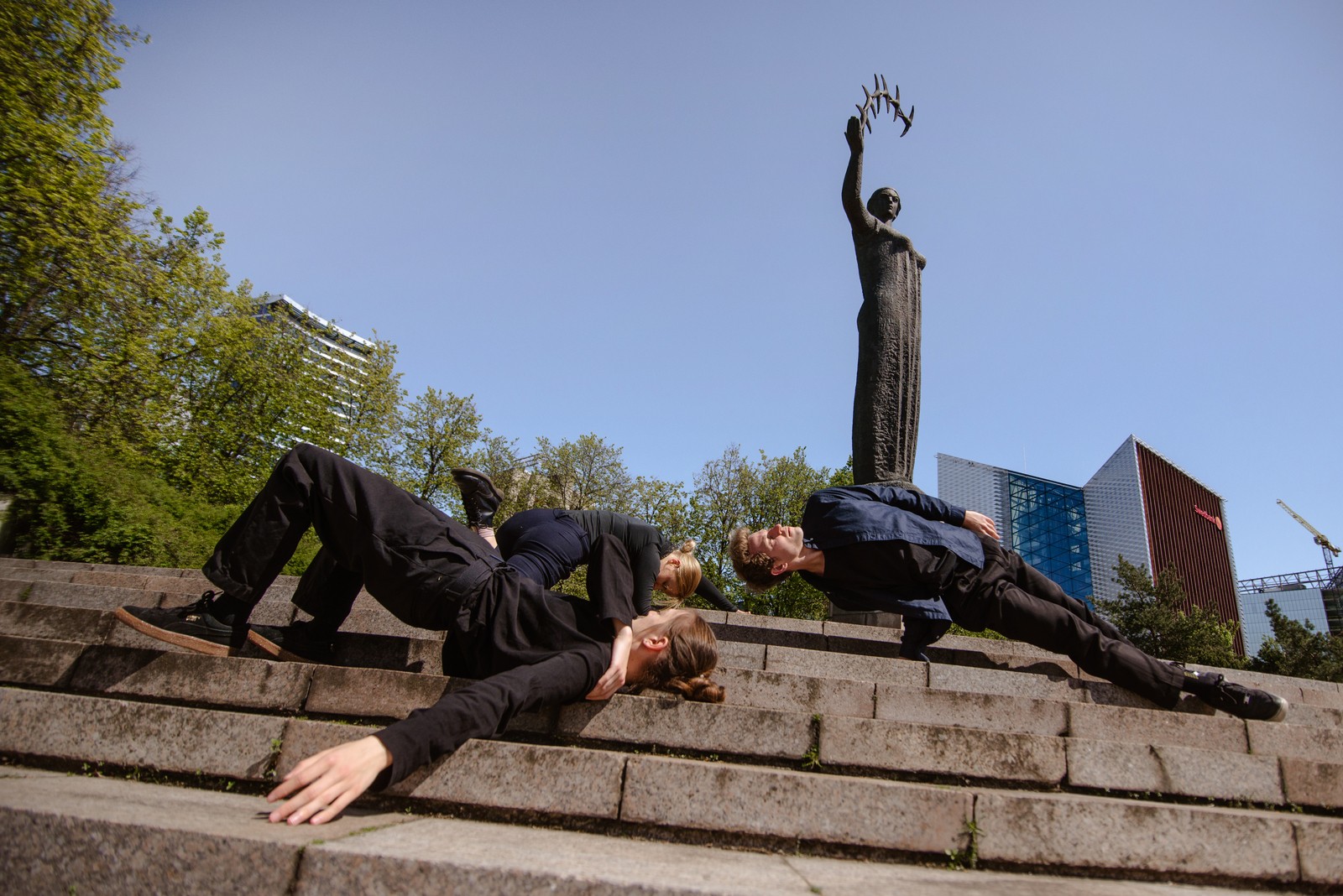 Is it possible to win a game where the goal is to see the untruth in the truth? Or perhaps the answer lies not in combat but in dialogue? We know one thing – such move requires courage! "Truth or Dare" is a well-known game that everyone is invited to play. The rules of this game are simple: dare to resist the rules of a game/regime or let someone else decide for you – what is your truth? But does always dare = truth? Or maybe truth >< dare? We are all pieces in this global game, constantly moving through space as a game board in order to be on the right side at the end of our game.
June 29, 19:00
June 30, 18:00
Duration: 35 min
Location: The square by the National Art Gallery, next to the sculpture "The First Swallows" (Konstitucijos ave. 22)
BLUE TIRED HEROES | Numero23.Prod / Massimo Furlan (CH)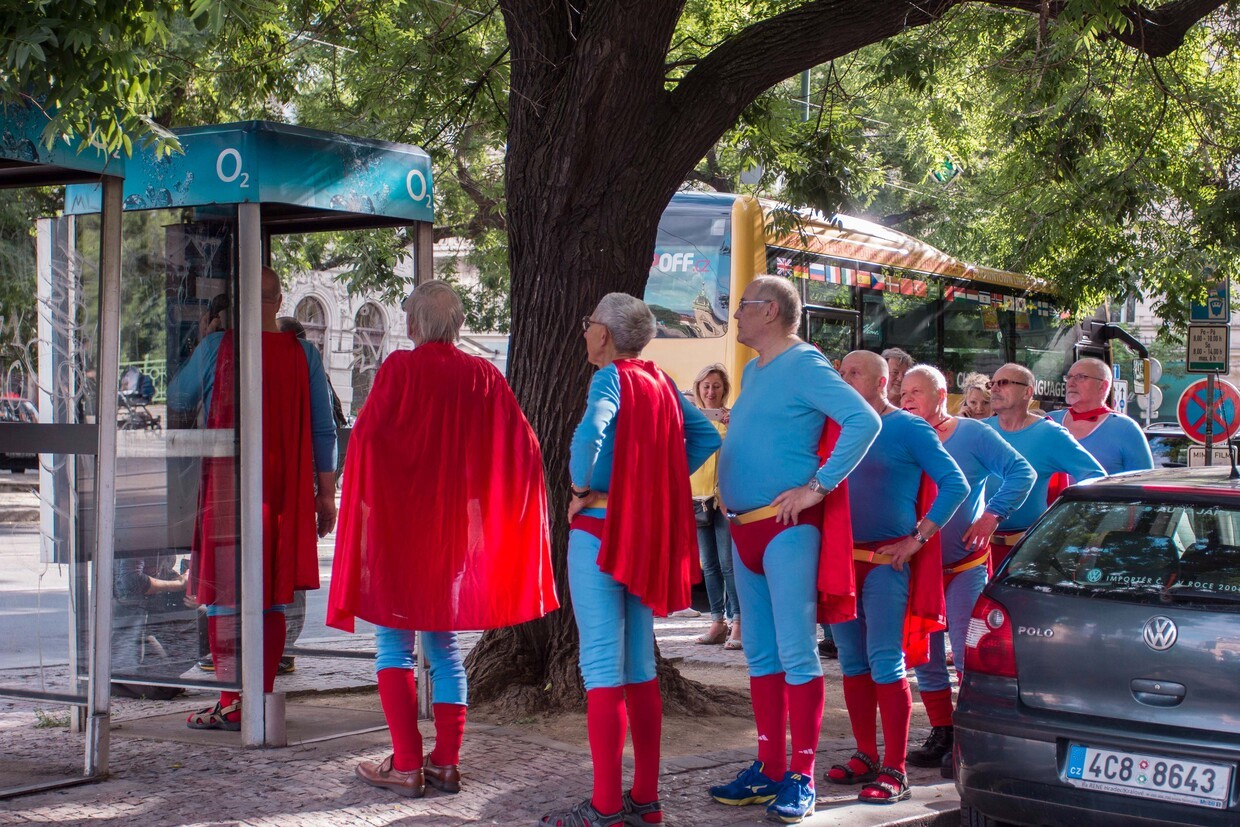 SPOT Education project presentation
What is a hero? What is Superman associated with? Superman is the only superhero who does not have human origins: he comes from elsewhere, his mission is to save the world – and America in particular! He was created at a time when society needed such a hero to project certain values. Superman is also the only hero who does not hide behind a mask. His attributes are his very essence, his costume is his true identity. Today we are witnessing a comeback of the superheroes. Their recent versions multiply, they are disseminated in all domains – from sports to rock music. Advertisements show football players with supernatural powers, capable of shooting a ball around the earth.
The author of this project is interested in the complete opposite: to unmask the mechanisms of heroism, to annul their powers, to show a man capable of losing.
June 29, 21:00
June 30, 20:00
Duration: 60-90 min
Meeting point: Arts Printing House (Šiltadaržis st. 6)
OHTLI | Djade (MX/CAT)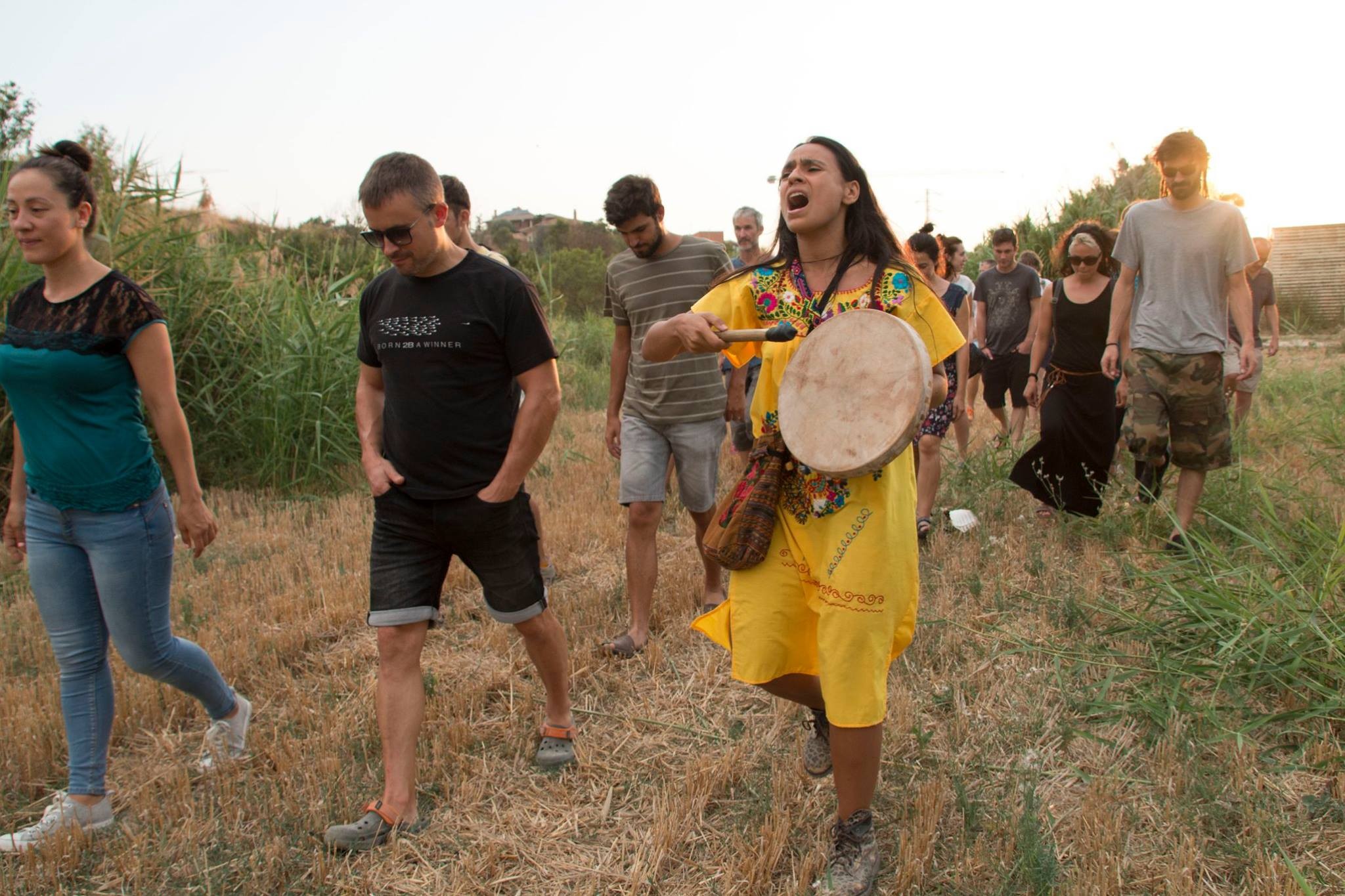 Ohtli, in Nahuatl, means "path". This unique walk can be described in words such as memory, transformation, acceptance, experience. Othli is a show for green spaces of the city, telling a story about life, transformation and acceptance of changes. Sharing and facing changes are the two axes of this artistic creation. Ohtli is a path for a small audience and a travelling companion: Claudia who will guide the visitors of the SPOT festival through mythical and ancient stories, but also the new ones. Together with Claudia, the audience will share experiences, moments and memories. We will breathe, observe and walk a unique path together.
Walking as a group, even in silence and for weeks, is a common ritual of meditation found in different communities in Mexico which culture is pre-hispanical. As a collective, Djade aims to observe, communicate and share unique experiences. Ohtli seeks collaboration from the beginning, working together with the festivals to find a beautiful space to walk along, adapting the dramaturgy and scenes to the end, when the audience will add its memory, its presence and attention.
June 30, 21:00 / 23:00
July 1, 21:00 / 23:00
Duration: 50 min
Location: Pūčkoriai Cognitive Trail, meeting point: Belmontas waterfalls
Registration - https://bit.ly/OHTLI_registracija
ISLANDS | Šeiko Dance Company (LT)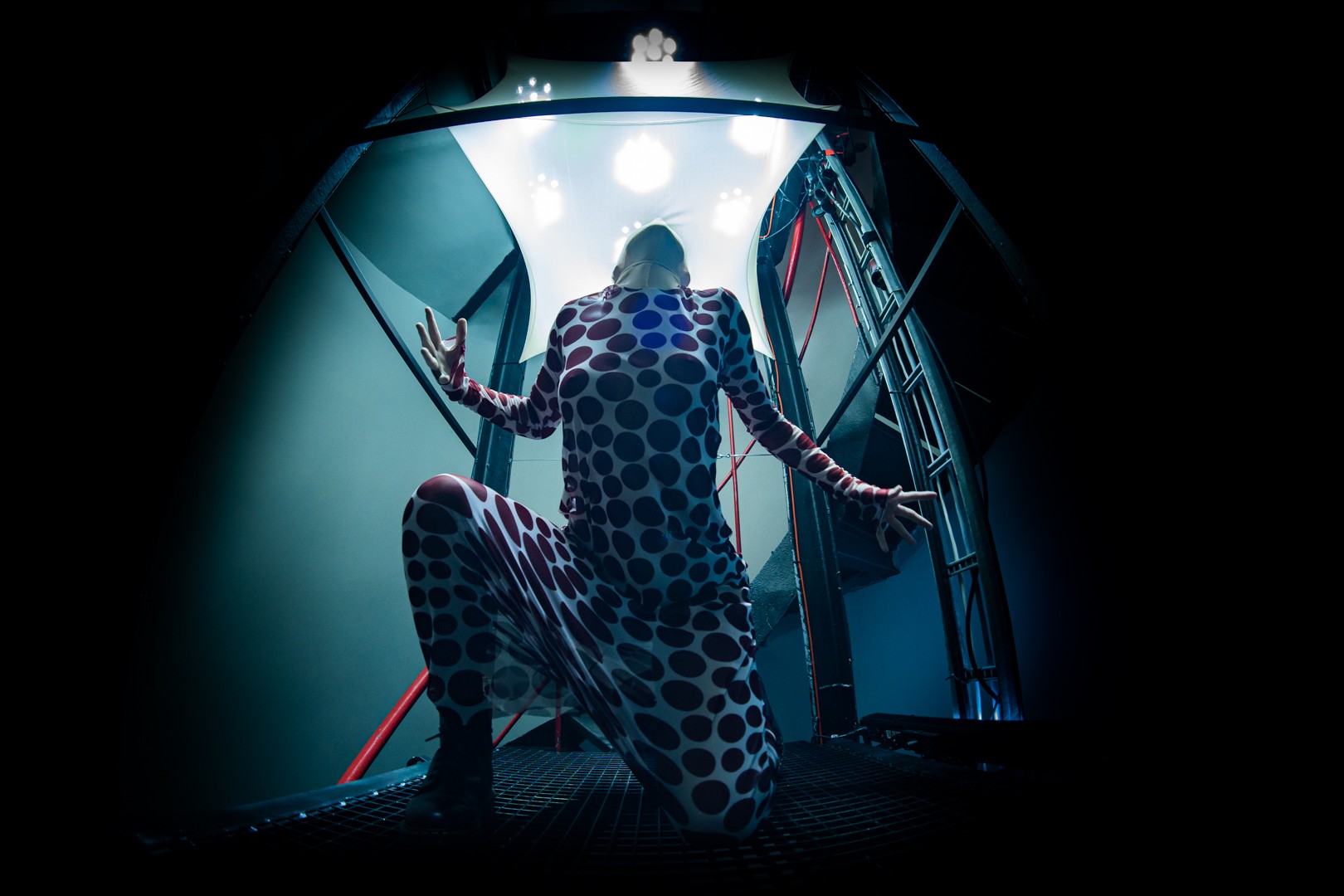 Music and movement installation
This installation is a tribute to the history, present and worrying future of our relationship with nature. Islands invite you to immerse yourself in the elemental state created from minimalistic music, movement, lights and abstract costumes.
Entering the space of the installation involves a feeling of the gradual blow of sand – as if you were inside an hourglass. The spectators' ears are filled with meditative music composed of sand and the cello and the sounds of live cello music. It is a minimalistic composition of the famous composer Žibuoklė Martinaitytė, composed of analogous sounds of sand and cello.
Figures reminiscent of people meet the spectators, but their identities seem to be erased, their bodies are gradually washed away by the sand and it starts to feel that being drifted by sand is inevitable. Inspired by the Curonian Spit, Islands explore themes of sustainability, environmental protection and the future of humanity.
June 30, 19:00 / 20:00 / 21:00 / 22:00
July 1, 15:00 / 16:00 / 17:00 / 18:00
Duration: 30 min
Location: T. park (Pelesa st. 1)
Registration - https://bit.ly/SALOS_registracija
BARK | Acting for Climate (FI/NO/DE)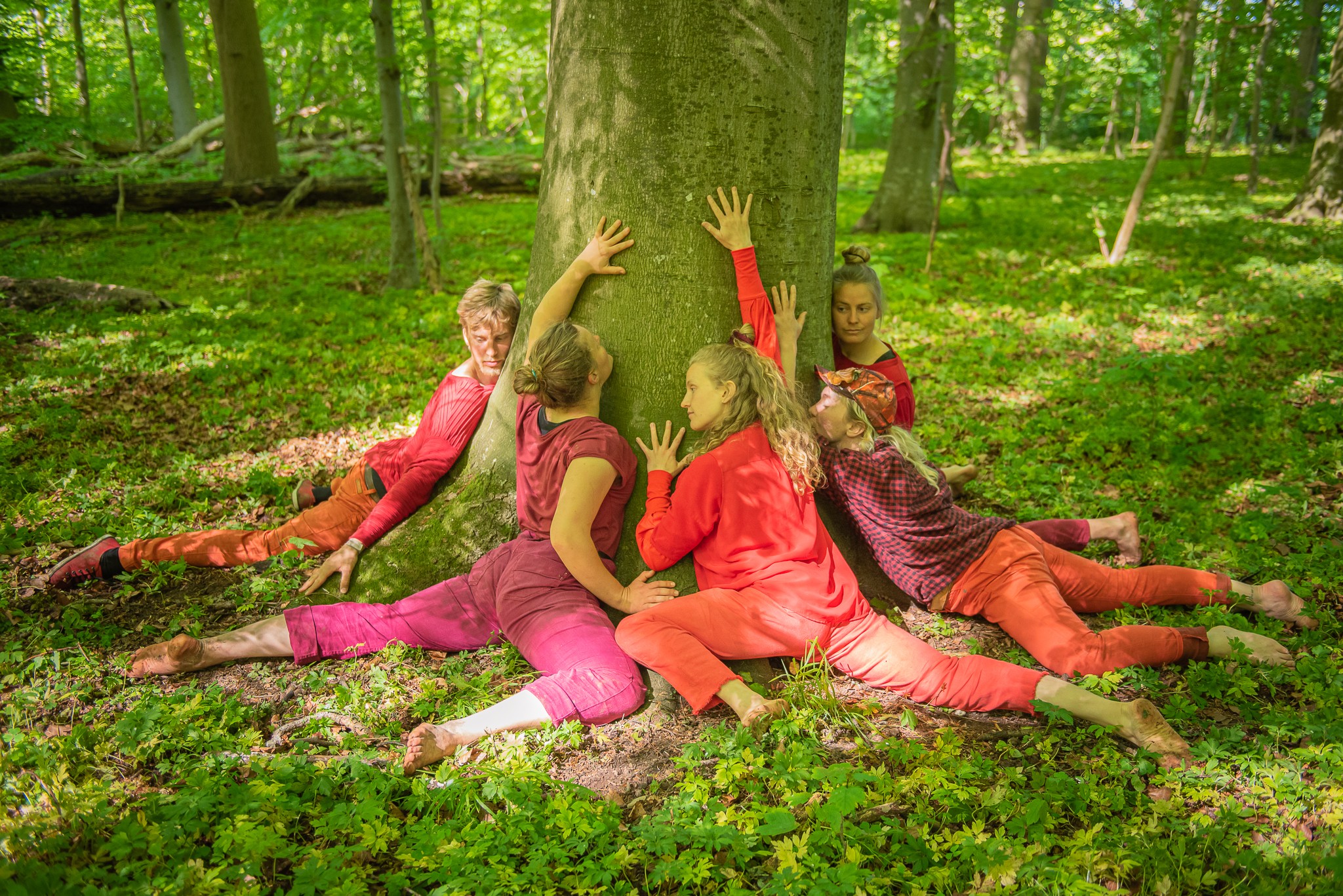 A spectacular, poetic, and thought-provoking contemporary circus performance for a forest, an audience and five performing artists.
The performance BARK will take place in the forest of Vingis park and will tell a story about people reconnecting with each other and with nature. The forest, the soil and the trees are the main characters of the performance, cocreating the piece together with the performers, climate scientists and outside eyes. BARK analyses the themes of climate change and the possibility of social change. Sustainability is a very important aspect of this performance.
BARK combines physical expressions of group acrobatics, vertical dance, physical theatre and dance with contemporary soundscapes and poetic text, all performed by artists moving between, with and around the trees. "Through being nature, reconnecting, and living utopia, we aim to convey a sensory experience that can change perspectives on our human natures, as a part of the biosphere. Hanging from a branch twenty meters over the ground creates an immediate image of our co-dependence on nature," say the creators of the performance.
July 1, 15:00 / 18:00
July 2, 15:00
Duration: 75 min
Location: Vingis park, entrance from Čiurlionis st. side (follow the SPOT festival signs)
VIENUDU | Low Air (LT)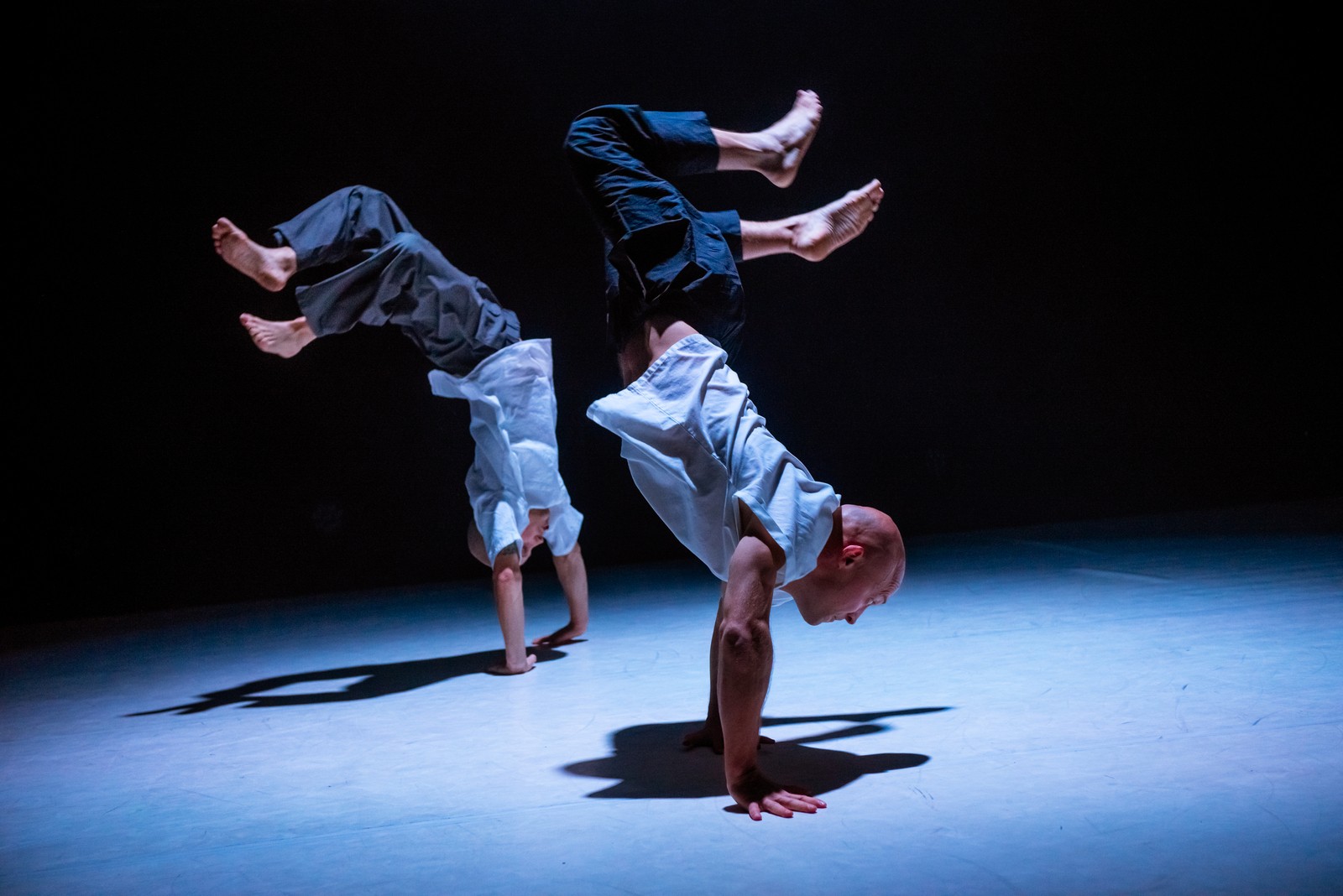 Dance is primarily about a person's relationship with himself/herself through one's relationship with others and the environment. This relationship is our mirror, but the mirror often becomes quite distorted due to the entanglements of our identity. So, firstly, it should be straightened: looking into each other's eyes, holding hands exposes us in front of each other and gives us an opportunity to look at ourselves/others as they really are and not how we would like/ do not want them to be.
By exploring the movements and flow of breakdance, juxtaposing them with Lithuanian folk dance, the creators raise philosophical questions in the narratives of a male identity. In a duet, as if in a dialogue with another, but essentially with oneself, it is tried to explore a look of oneself in today's hustle and bustle of norms, opinions and stereotypes. About our internal processes and going in circles.
July 1, 20:00
July 2, 18:00 / 19:00
Duration: 20 min
Location: Helicopter landing site, at the White Bridge
PLAYCES - PLAYGROUNDS| Markas Liberman (LT)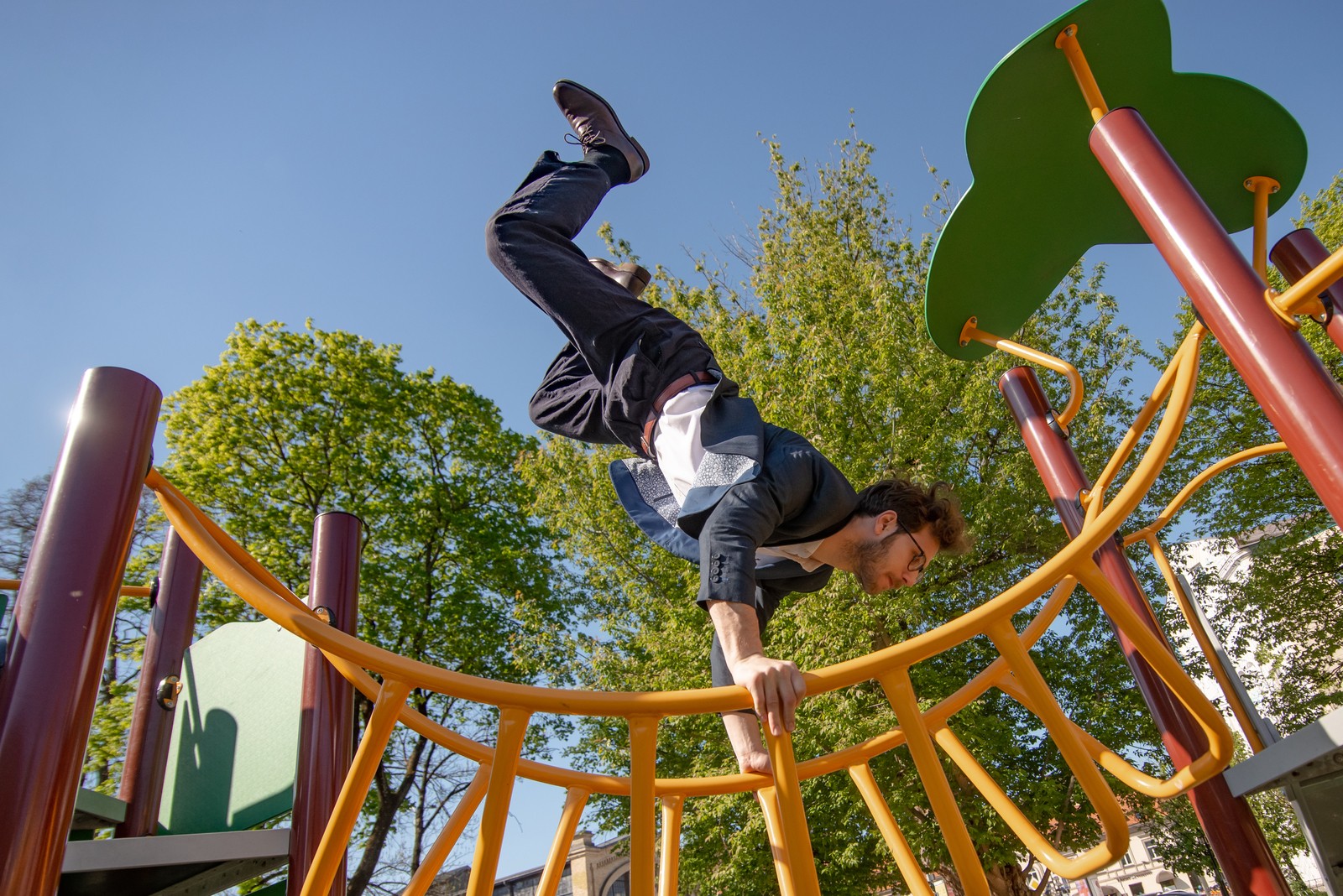 Presentation of the work in progress by the winners of the Arts Printing House program "Open Space".
Spectators of the project Playces – Playgrounds will be invited to meet at the children's playground. This is the first solo work of Mark Liberman where acrobatics will intertwine with music, childhood with maturity, chaos with the search for structure, and the author of the performance will try to answer the question: "What does it mean to grow up and remain a child?" In this performance, the audience will be invited to rediscover the joyful spirit of childhood and remember that the world is our playground.
July 2, 13:00 / 18:00
Duration: 30 min
Location: Halė children's playground (Pylimas st. 58)
THE ENTIRE SPOT FESTIVAL PROGRAM IS FREE!